Changed the eye shape.
Recolored back to original color.
Changed outline color to black.
Changed eye color.
Gave paws yellow tips.
Gave head fluff more shading.
Changed nose color to dark green.
Inspiration behind it all:
https://www.marapets.com/topics.php?id=959947&fid=46&myposts=784291
Looks like the Minipet Chibs got updated again!~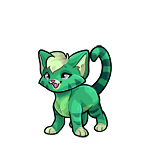 Woohoo! Looks awesome, very nice guys! Love it!