Bank
Welcome to the National Maradan Bank. The banks closing hours are every even hour throughout the day - when Baspinar's Castle is closed and the site layout is in darkness. During closing hours, you will have access to your bank account but only in Ziranek. Therefore you will have to withdraw your MP from your bank account at the ATM in Ziranek, where you will have to pay local charges.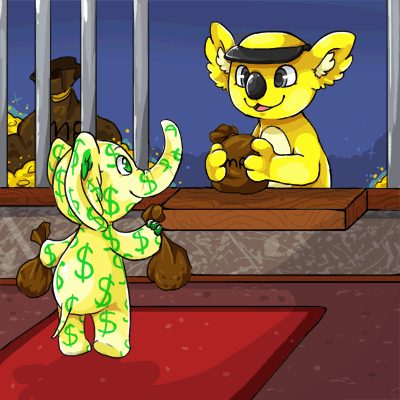 The bank will be closing again in 34 minutes!
PIN Number
If you would like to use the ATM Machine in Ziranek, you will have to set yourself a 4 digit PIN Number. Make sure it is something you will remember because when the bank is closed, you will not be told it and will have to wait for it to re-open.
Collecting Interest
Interest can be collected every 24 hours. Everytime you deposit MP to your bank savings account, either through this bank or the ATM at Ziranek, the 24 hours is restarted. This is a safety feature installed here at the bank, to make sure interest is only given to those who use their bank to save money and not to store. You earn 0MP interest a week.
Withdraw and Deposit MP
You have 0MP with you and 0MP in your bank account. You can withdraw and deposit MP with the form below, free of charge, while the bank is open.
Your Bank Account
| | | |
| --- | --- | --- |
| Bank Account | MP to Upgrade | Interest (per week) |
| Newbie Account | 0MP | 0.5% |
| Maradan Saver | 10,000MP | 0.45% |
| Bronze Account | 50,000MP | 0.4% |
| Silver Account | 100,000MP | 0.35% |
| Gold Account | 250,000MP | 0.3% |
| Platinum Account | 500,000MP | 0.25% |
| Emerald Account | 1,000,000MP | 0.2% |
| Ruby Account | 2,500,000MP | 0.15% |
| Sapphire Account | 5,000,000MP | 0.1% |
| Multi-Millionaires Account | 10,000,000MP | 0.05% |
| | |
| --- | --- |
| Your Account | Newbie Account |